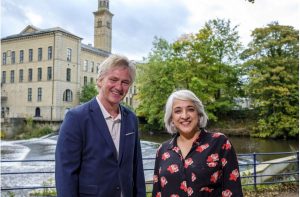 Sovereign Health Care is the latest company to be announced as a delivery partner for Bradford 2025, using its 150-year heritage to further boost ambitions to develop and deliver a UK City of Culture programme that puts health and wellbeing at its heart.
The Bradford-based business, which provides health care cash plans to more than 68,000 individuals and businesses across the UK, was one of more than 35 companies who officially backed the district's winning bid over its two-year campaign. Sovereign Health Care has also committed substantial funds over the next four years which will go towards the development and delivery of the district's UK City of Culture programme, as well as helping fund a legacy year in 2026. Sovereign Health Care joins Provident Financial which was also announced as a delivery partner earlier this year.
Originally established in 1873 as a Bradford-based hospital fund, Sovereign Health Care is one of the UK's leading cash plan providers, and remains committed to the original principle of a hospital fund – to support people to put their health and wellbeing first. The company's ethos chimes with Bradford's UK City of Culture ambitions to have a transformational impact on the lives of its citizens, and the 2025 programme will include a first-of-its-kind study using medical research led by the Bradford Institute for Health Research, to measure the benefits arts and culture can have on the health and wellbeing of local people.
This will be done in partnership with the pioneering Born In Bradford project, which has been tracking the lives of 13,500 babies and their families for more than a decade, looking at how issues such as poverty and pollution have affected the health of the city's children. The first members of the Born In Bradford cohort turn 18 in 2025, providing a natural opportunity to demonstrate the positive link between culture and the wellbeing of children and young people as they get involved in this landmark year.
Russ Piper, Chief Executive at Sovereign Health Care commented: "It is recognised that investment in culture raises social and economic capital. But one aspect of Bradford's UK City of Culture programme we are particularly excited about is the opportunity to tangibly measure the positive, transformative impact arts and culture can have on physical and mental health. We were proud supporters of the bid and now to be able to support the programme development and delivery is fantastic. We look forward to remaining on this incredible journey with the Bradford 2025 team and its partners."
Artist, producer, presenter and former chair of Bradford 2025, Shanaz Gulzar – who played an instrumental role in the district's winning bid campaign – was recently announced as Creative Director of Bradford 2025 alongside Dan Bates (joining from his previous role of Chief Executive at Sheffield Theatres) as Managing Director. The duo is set to lead the delivery of the district's bid with recruitment of a wider delivery team well underway.
Shanaz commented: "It's brilliant to have Sovereign Health Care on board as delivery partners as I know support from our incredible business community played a key part in securing our UK City of Culture 2025 title. From the very start, we knew we wanted to do something different here in Bradford, that winning was about much more than creating incredible cultural experiences that will uplift and inspire, more than attracting inward investment and putting Bradford in the spotlight. It is also about empowering local people to learn new skills and explore new cultural and creative opportunities, which will in turn improve their wellbeing and create a sense of pride in their home district. It's bold and ambitious, but then, so is Bradford."