We're proud to be celebrating 150 years of giving our all for a healthier and happier community. As we look back at some of the highlights of Sovereign's significant history, we look forward to the next 150 years and counting…
1873
Health care in the 1870s was a major issue; if the symptoms didn't kill the patients, the remedies often did! Common treatments for patients included 'heroic medicine' – bleeding, plastering, purging, sweating, blistering and amputation.
By the time the Public Health Act was introduced in 1875, to combat filthy living conditions causing the spread of diseases, the Hospital Fund of Bradford had already been set up to raise funds for local hospitals.
1930s
Based at Horton Lane in Bradford (notice the telephone number in the image below!), The Hospital Fund is providing 40% of the income needed to run Bradford Royal Infirmary. By 1933 the Fund begins to offer medical and hospital benefits and, in return for regular weekly contributions, members receive medical treatment in some hospitals and convalescent homes.
1948
The NHS is founded, reducing the need for hospital funds. While many hospital contribution funds close, the Hospital Fund of Bradford continues and evolves to focus on providing a medical benefit fund to its members.
1960s
In 1965, The Hospital Fund develops the 'Shilling Scheme', which forms the basis of the Sovereign Health Care cash plans that exist today.
In 1968, as the UK begins to prepare for decimalisation in 1971, the new five pence coin is introduced (fun fact, these were the same size and worth the same amount as the one shilling coin). The building in the image above is the Hospital Fund's Head Office located on Vicar Lane, in the Little Germany area of Bradford.
1973
The Hospital Fund of Bradford celebrates its centenary year, paying out a record £300,000 in medical benefits to members. Here are the Board members at that time – from left, J L Hellawell, E Bentham, C P Dawson, R W Myers and T Bastow. 
1976
The 'Sovereign Plan' is born, covering members' everyday expenses if they need to take time off work or give up their job because of illness or a hospital stay. Employers are also encouraged to consider the Sovereign medical benefits fund for their employees. The Sovereign Plan is so popular that a 'his'n'hers' option is introduced, enabling people to contribute through their wages on behalf of partners who are not employees.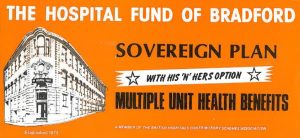 1986
The Hospital Fund of Bradford officially changes its name to Sovereign Health Care.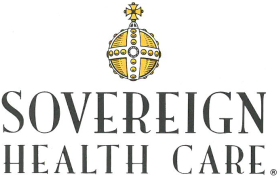 1994
Sovereign relocates to a new head office on Manningham Lane, Bradford – the photo below shows the development of the 'iconic' bell tower, during the construction of the building. The site had previously housed The Theatre Royal in the late 1890s, and in 1921 the auditorium was converted for full-time cinema use.
2007
Sovereign launches 'go-active', its first employer paid cash plan, followed by 'Asset' in 2011 and 'Merit' in 2013. Attitudes towards health in the workplace have changed in recent times. Many businesses now recognise the positive impact looking after their people's health and wellbeing can have on business performance, and cash plans can also help employers meet duty of care and other regulatory requirements.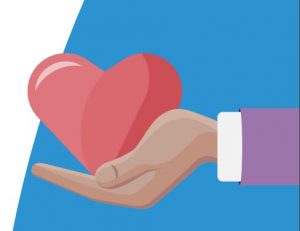 2009
Russ Piper, who joined Sovereign in 2006 as Sales and Marketing Director, becomes Chief Executive following the retirement of David Lewis.
2013
Sovereign marks its' 140th anniversary by launching an online charity vote to determine how £140,000 is shared between 14 local charities with the results announced at an awards ceremony at Bradford's Media Museum. Here is a photo of Chief Executive Russ Piper, with regional news presenter Christine Talbot who was the host for the evening.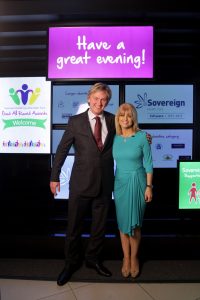 2018
Sovereign launches the 'Good All Round' cash plan, providing 100% payback on dental and optical treatments and 50% for other health costs. An online claiming facility becomes available, along with exclusive member discounts and a 24-hour GP service – cementing Sovereign's commitment to evolving to benefit its customers.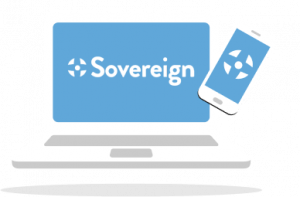 2022
Sovereign is announced as a delivery partner for Bradford 2025. Sovereign's ethos chimes with Bradford's UK City of Culture ambitions to have a transformational impact on the lives of its citizens, and the 2025 programme will include a first-of-its-kind study using medical research led by the Bradford Institute for Health Research, to measure the benefits arts and culture can have on the health and wellbeing of local people.
In November 2022, Sovereign relocates to The Waterfront, located adjacent to Salts Mill and the Leeds and Liverpool Canal, to better support our business needs and employees' health and wellbeing.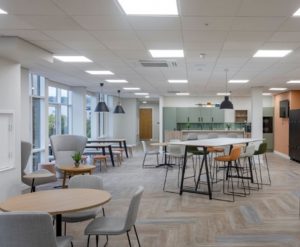 2023
Sovereign completes its purchase of The Waterfront, a modern four storey purpose-built office building. The purchase allows us to diversify into other business areas whilst utilising our capital reserves effectively.
Sovereign announces the appointment of Neil McCallum as its new CEO. Neil will join Sovereign in September 2023 following current CEO, Russ Piper's, decision to retire in early 2024.
Today, Sovereign continues to stay true to its roots, serving more than 67,000 customers and last year paid out more than £6.9 million in claims.
In the last 16 years, over £10.2 million has been donated to health and wellbeing good causes. To honour our 150 years milestone, Sovereign will this year donate up to a record £1.5 million to the local community, including more than £800,000 to Yorkshire NHS Trusts, through our Community Programme.
Keep an eye on our website and social channels for further updates
on how we'll be celebrating over the course of this year.